Convert PowerPoint to Excel
Converting PowerPoint to Excel - top tools and techniques
Now Convert your PowerPoint to Excel for free.
In this article, I am going to show you how to convert PowerPoint to Excel by exporting data from presentations to spreadsheets in a fast and efficient way. Moreover, I will also review several important tools and approaches popular among professionals.
Before jumping right to the point, let's review the advantages of the aforementioned office applications and some popular reasons behind converting PowerPoint slides into Excel tables.
PowerPoint is a popular office software designed to create electronic presentations consisting of a series of separate pages or slides. Excel is an essential application that features calculation or computation capabilities, graphing tools, pivot tables, and more. PowerPoint document is used for making presentations, whereas Excel is the most helpful for capturing, tracking, and analyzing data with the help of graphical charts.
In most cases, graphical information needs to be transferred from slides into Excel sheet for displaying and processing data, as well as producing insights. For instance, you have a few tables full of important business data in your PowerPoint file, your desire is to transfer those tables directly into spreadsheets and preserve all formats in order to further analyze the data. In other cases, you may need to collect multiple tables from PPT slides and design a chart to present such data effectively.
How to Convert PowerPoint to Excel
Converting PowerPoint to Excel is not a struggle, there are a great number of methods and tools available to assist you.
Technique 1: inserting PowerPoint Presentation into Excel spreadsheet
First, a PowerPoint presentation can be embedded right into Microsoft Excel. All it takes is to insert the PowerPoint file as an object that should link your data to the spreadsheet. Follow these steps to convert PPT to XLSX.
Open your Excel file that you are dealing with, and click on the "Insert" > "Object".
Select and insert your PowerPoint file: in the window that pops-up, click on the "Create from file" tab and then click on "Browse" to select your PPT file. Pick your PowerPoint presentation and then click "Insert". Hit OK to complete the process of embedding the PowerPoint file into an Excel spreadsheet.
Review your PowerPoint file in Excel. The presentation will appear on a spreadsheet as an image. Just double-click on the image to start playing your PowerPoint presentation. Click on the "Escape" button to return to your Excel spreadsheet.
Unfortunately, this approach will not allow you to modify and process data from your slides in Excel. Thus, consider using some alternative solutions below, if your goal is data manipulation.
Technique 2: copying data from PPT presentation to Excel
In some cases, you can simply select the data from your table on a slide, copy it, and paste it into Microsoft Excel for further processing. The spreadsheet application should recognize numeric data automatically, otherwise, you can set the correct format manually. This method is not the easiest one, and it takes time, however, it does the job well.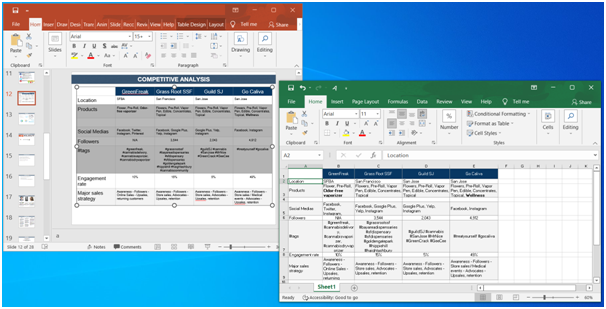 How to Convert PowerPoint to Excel Online (technique 3)
Important data from a plethora of PowerPoint presentations can be exported to Excel spreadsheets online for free, thanks to a variety of web applications. You can find and try some of these services on the Internet with Google.
To convert PowerPoint to Excel online:
Pick a suitable web service, such as Aspose.app, and open it in your browser;
Upload your PPT files from your device and set preferences, such as formats and data recognition mode;
Wait until the conversion process is finished and download your file formats in Excel.
That is it!
The downside is a lot of people complain that such a technique lacks accuracy, some data is not identified properly, and formats may be adjusted as well.
But here is the kicker: some web converters support OCR or optical character recognition that allows recognizing numeric and text data in images that can't be selected and copied with a standard office suite. Hence, make sure to pick PowerPoint to Excel online converter that provides OCR functionality, this will increase the accuracy of data transferring between these formats.
What's the bottom line?
There is still a gap between PowerPoint and Excel, which hinder the process of data exchanging and processing. Luckily, now you know several proven approaches to convert PowerPoint to Excel offline and online, feel free to test all of them along with free online converters to pick the one that serves your needs well.