Table Extraction from PDF
A few ways of extracting data from tables quickly
When it comes to the analysis of paper-based tabular statistics or financial data, table extraction software is a must-have tool. It can significantly save you time and effort. Twenty years ago as a student I was forced to retype structured information from books and manuals to a spreadsheet to analyze all the numbers and draw charts, and conclusions. Nowadays, with scanners and phone cameras it has become really easy to scan documents, moreover, you can conventionally copy data and then load it into excel sheets. However, even if the table is recognized and its cell data can be copied, it may also be challenging and time-consuming to get some information out of it.
In this article, I am going to review several ways of extracting data from tables, so after reading this you will be able to input tabular data from paper or photos into your documents in a few minutes. No professional software is needed. You will say goodbye to manual typing and long-lasting complicated table data extraction process management.
Furthermore, I am going to introduce you to:
Definition of table extraction
Evolution of that process
The basic scenario of data extractions from table
Some challenges behind that process
Important use cases
Free options and instructions for extraction of tabular data
And much more.
Are you ready?
Let's jump right in. What is table extraction?
Table extraction is the process of detecting and separating tabular information in a document. This task includes discovering and recognizing a logical structure of tables and content from its unstructured appearance within a document, it also recognizes individuals, columns, or elements. Table extraction can be regarded as a special form of information extraction. When you deal with tables on paper or in images, the process of data extraction usually requires a combination of scanning hardware, optical character recognition, and tabular data management software. Table extraction history Since the beginning of mankind, important business information has been stated in digits and well-structured to make data clear and avoid misinterpretation. Since ancient times, scientists concluded that tables are the most efficient way of presenting important details, actual states, and insights. Even nowadays, we use that method and repurpose data from tables daily. For instance, some of us check schedules, which are structured as a table, review stock quotes in rows, and use table-based calendars to plan our day as well.
The idea of full or partial extraction of information from tables is old as time. The Greek and Roman Empire scholars made a combination of tables, split data, and repurpose them in form of graphics. Humanity used a great number of tricks to save time and eliminate mundane work, such as stencils, carbon paper, and much more. Everything changed when the computer was introduced. The first program that manipulated tabular data was VisiCalc, written for the Apple II computer in 1979. And, this is crazy, but the first computer scanner was created in 1957 by Rules Kirsch, it optically scanned images, printed text, handwriting, or something else and turned it into a digital image.
The aforementioned combination of software and hardware has evolved in a dramatic way. In the present day, you and other business professionals have a great number of options for convenient and fast table data extraction.
Now that, we know the history, we are ready to discuss how the process of table data extraction works.
How does table extraction work?
To begin the process of extraction of data, you need to upload your document which has tabular data to a computer. Such a task can be achieved by scanning the document with a scanner or making a digital picture of it with a phone camera. After that, table extraction software does the rest of the job.
The next step is table detection. This uses a combination of Optical Character Recognition(OCR) and machine learning algorithms to identify a table in your scanned document or your image. When the process is completed and all the tables are detected, they ought to be recognized with Table Recognition.
The Table Recognition process involves Optical Character Recognition (OCR) and machine learning as well to identify the columns, rows, and cells existing in the table of your input data.
Finally, Table Extraction takes place. Now you can select and extract the table within the formation from your digital image or scanned document for further analysis and data processing.
Why table extraction can be challenging?
There are several issues and obstacles behind the process of table data extraction. Firstly, the data extracted rarely retain their original context and may use a different hierarchical structure. It makes you restructure extracted table data and add some context manually.
Some tables may not have identical outlines. Moreover, they may have varying structures, data types, and inconsistent data point locations. All these differences make it difficult for rule-based table extraction algorithms to reap results accurately.
Finally, as a professional data analyst, you need to get and compile specific table data, not the whole table. So, it may cost you some time to select the range of data you need. However, I need to admit that with the correct approach and the right combination of tools, some of these challenges can be easily overcome.
Let's review the most common cases and reasons behind table extraction.
Why extract data from tables?
The table extraction process can be helpful for both individual and business purposes. For instance, some of us capture important documents with a mobile phone for safekeeping and personal records. Table extraction data allows us to save a few megabytes on our hard drives by converting data in raster images into editable formats. As a food enthusiast, I usually make pictures of restaurant menus, and later with the table extraction technique, I sort all that data in my spreadsheet. Such an approach allows me to find the best place where I'd like to eat a particular meal and know its price in advance.
Business professionals appreciate table extraction when it comes to invoicing automation and form processing. All that data is usually tabular structured and unfortunately comes via regular mail on paper. To overcome such hurdles, we can Convert All Invoices Into An Editable Format with table extraction and, thereby, register and process them more efficiently. In terms of online and offline form processing, table extraction can eliminate the cost of printing, mailing, storing, organizing, and destroying traditional paper alternatives.
The banking and Insurance sectors take advantage of table extraction when capturing data from a great number of hard copies. Machine learning and intelligent automation support them in quality control improvement and asset tracking.
All right! The theory is over. Now you should understand the meaning and the benefits of table data extraction. That means you are ready to know how to do table extraction by yourself and leverage that in your daily life.
How to do table extraction on a desktop?
The processes of table data extraction can be completed by a variety of software. To begin, you need to get an input file scanned by a scanner in the form of a PDF or saved as a photo taken by a smartphone camera.
I highly recommend scanning tables and saving them in PDF. Tables are a cleaner data format, and often you need only the data from tables embedded in a document. That's why businesses find it useful to extract tables specifically from pdf documents and process such data later in Excel. Hence, your PDF should be converted to an Excel spreadsheet.
You can leverage Adobe Acrobat (the most popular PDF processing software) to convert your PDF files and export tables to Excel in a flash. You don't need to worry about inputting numbers, or formatting cells, Adobe Acrobat takes the effort out of creating an Excel spreadsheet from a PDF file.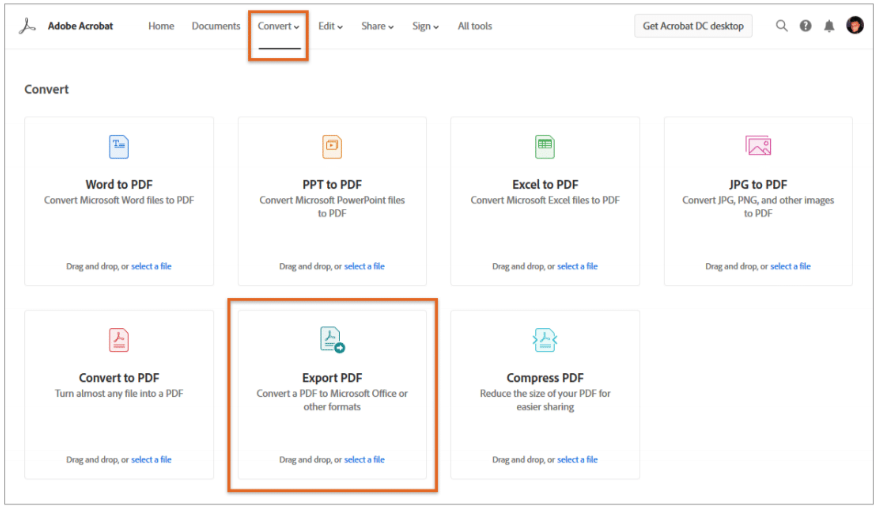 To extract table data on PC or Mac:
Install Adobe Acrobat.
Open your PDF input in Acrobat and click on the "Export PDF" tool in the right pane.
Choose "spreadsheet" as your export format, then select "Microsoft ExcelWorkbook.", Click "Export." and Save the Converted File.
The best thing is, if your PDF documents contain scanned text, Acrobat will run text recognition automatically.
The bad news, Acrobat DC is not free software, its subscription starts at US$12.99 a month. If you are on a budget, consider using an alternative approach by utilizing MicrosoftExcel's "Data from Picture" feature.
A new version of Microsoft Office and Excel allows turning phone photos into Excel table data. In this article, we have discussed how to extract tables from PDF documents and convert them to Pandas Dataframe which can be further used for modeling.
To extract table data on your PC or Mac with Excel:
Make a picture of the table with your digital camera or a smartphone and transfer it to your computer.
Open your spreadsheet in Excel and head to the Insert tab.
Click "Data From Picture," and then select "Picture From File."
Select and open the image with your tabular data, and Excel will insert the data automatically.
This is it! I also have to admit that the accuracy of tabular data recognition is moderate, however, Microsoft keeps improving it.
There is some professional software for table extraction also available as an alternative to Adobe Acrobat. It could be pricey and waste some space on your hard drive. Nevertheless, such solutions as Aspose and FoxIt are worth trying.
Use the various interactive features like buttons, radio buttons, checkboxes, list boxes, time fields, signature fields, and text fields to make your PDF form more interactive. It is no secret that extracting tables from PDF is daunting if you don't have the right PDF form editing tool.
How to do table extraction on mobile?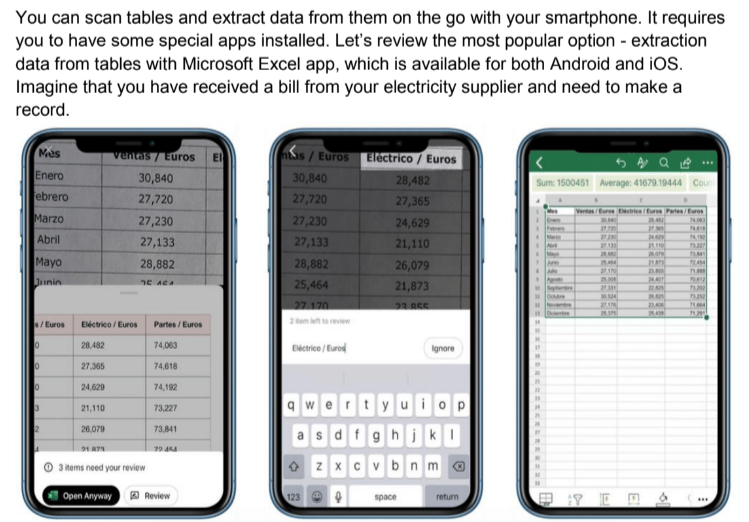 To do table extraction on your mobile phone:
Download and install the Microsoft Excel app, if you don't have any.
Open Excel and select the file you want to import your table data to.
Tap on the small icon at the bottom of the screen and push the "Insert" tab and then press "Data from Picture".
Scan your electricity bill with the camera of your smartphone and adjust the area of a table to be imported by dragging the circles along the border. The Excel app will read the image and select important parts to import as text.
Check the preview of your data for possible errors, and then tap on "Insert" to paste the data to your Excel document.
That's it.
App stores also have a great number of table extraction applications, which use ML/models to detect and identify important information in cells. Some of them require a paid subscription, but many are available for free with some limitations.
My only concern in using table extraction apps is that you need to download and keep the application on your smartphone, which is not convenient if your phone capacity is limited, and you extract data from tables occasionally.
Taking into account all the aforementioned options for table extraction, I'd like to introduce you to online tools. Extract Tables from PDF and Export to Excel, CSV, & More Converting scanned files to PDF (Portable Document Format) and extracting tables from PDF is necessary in today's modern times.
Table extraction online
There are some online services on the web that allow you to Extract Data From Tables in images and PDF files in minutes. You don't need to install any software or app on your phone to do that. Web-based table extractors work great on any device and any operating system. They are the best option for guys like me that need to perform the extraction of tables once in a while.
For instance, FormToExcel.com is a free online data extraction tool, which is capable of processing any document online with complete accuracy thanks to its OCR and AI model.
To extract table data online for free:
Get your input with tabular data in a raster image or portable document format.
Open your device's browser and go to FormToExcel.com.
Upload your input. It will be examined and converted into an editable Excel file in a short time.
Download your output in Excel format, which will contain all the data from your table so you can process and store it properly.
There's no usage limit on FormToExcel.com yet. No payment is required and no credit card details are needed. You may be worried about the privacy of your information. Your data is completely secure and confidential. FormToExcel.com never sells your data to any third party, all the uploaded files are removed permanently a couple of hours after the data extraction process is completed. So, you may stay focused on your tabular data processing and never worry about finding the right software anymore.
What's the bottom line?
Occasionally we all need to extract data from tables, it doesn't matter who we are and what we do. Anyone can find it challenging to input sensitive information from hard copies of invoices or statements to spreadsheets manually. Luckily, there are many options available and tools that can save us a lot of time and reduce the number of mistakes in data entering. We have reviewed some popular options for table extraction, which are used and appreciated by business owners and individuals across the globe. Do not hesitate to try and rate all of them by yourself. I guess testing is the only way of finding the best tool that serves your needs.
Table extraction from pdf
A perk of extracting tables from PDF using Excel is that the data will already be formatted as Excel tables with headers. You can go on and sort or filter the data in Excel to display what you want, in the order you want.
Tabula is a tool for liberating data tables locked inside PDF files. A number of PDF viewing applications let you copy text from a PDF file, paste it somewhere else, and keep it safe. However, these applications have a limitation that they can't copy text from a scanned PDF document. Often the PDF documents that your operation team receives are scanned images of papers. To be able to Extract Data From PDF files and keep it safe in structured data form such as Microsoft Excel is a multi-step challenge.